Home
Previous cartoons
NEW: Links
The Packer Chronicles
About Lyle Lahey
Contact us

Copyright 2007 Lyle Lahey
The Packer Chronicles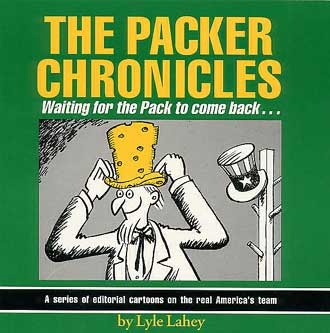 The Packer Chronicles
By Lyle Lahey
$14.95
222 pages; 8" by 8"
Green Bay News-Chronicle, first edition Jan. 1997
ISBN: 0965977404
No one has chronicled the fortunes and misfortunes of the Green Bay Packers like Lyle Lahey, who provided his affectionate and often biting commentary on the team to lucky Green Bay residents for more than three decades.
From Bengtson and Devine to Starr and Gregg and finally to the Holmgren era and the return of the Super Bowl trophy, Lahey kept track of the (all-too-often dashed) hopes of Wisconsin's football fans.
Order The Packer Chronicles from these select vendors or contact us for mail-order information:
Amazon.com
Barnes & Noble
Wisconsinmade.com
All content copyright © 2006 Lyle Lahey. All rights reserved. Unauthorized duplication of images or articles on this Web site is strictly prohibited. Reproduction of these images or articles in whole or in part in any form, on paper or electronically, without written permission from the publisher is prohibited by law.