Featured Site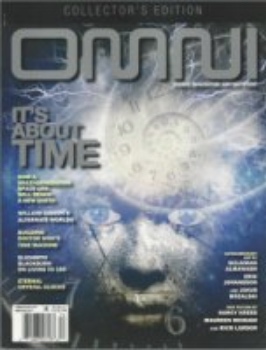 Omni
First published by Penthouse mogul Bob Guccione and his partner Kathy Keeton beginning in 1978, Omni was a behemoth for several years, with circulation topping 1 million for a while. But it went into decline and finally stopped publishing in 1995, though an online-only version continued for several years.
Now, Omni is back in print, and it is being published by the current owners of Penthouse. The first, (re)-premiere issue was solid and promising. Here's to a long second life for Omni. >> go there
Links
Caveat emptor: I do not assume any liability or responsibility whatsoever for the content of any of these linked sites.
PERSONAL PAGES | FUN & INTERESTING | SPORTS | NEWS | POLITICAL | HISTORY | SCIENCE FICTION & SCIENCE
Personal Pages
David Gerrold The author's official Web site
Ellison Webderland Someone's devoted a site to Harlan Ellison
German Corner German Web ring
Howard Cruse Great cartoonist's official site
Karen J. Bannan Writer and a fellow member of the Internet World diaspora
Kerry O'Quinn Movie producer and founder of Starlog has a new website
Marc Bernadin A man, a plan, a blog
Martha Bridegam's blog Who says lawyers are boring? Interesting San Francisco blog
Matthew Rettenmund Gay author and magazine editor's blog
Maureen F. McHugh Author of the incredible China Mountain Zhang novel, and other works
Miroslave Klose German fußball star's official site
Peter David Comics scribe and author's site
Robert Greenberger Comics scene (and Comics Scene) guru
Weimar World Service Blog Yes, I have a blog, too; I use it to link together this site, my movie reviews, my magazine columns, short videos, photos, my stepfather's editorial cartoons, and such
Zipperer Project Management My cousin's medical cybrarian service
Fun & Interesting
Aaron Barnhart Blog and publishing site for Quindaro Press
Alphaville Great German synth band; also see interview I did with lead singer Marian Gold
Atlantic Popes Band with Max Holler and Bernhard Lloyd (from Alphaville)
Chicago Temple Chicago's First United Methodist Church; my former church; I did its first Web site
David Tao Great pop/r&b singer from Taiwan
Expat Harem From the editors of the book Tales of the Expat Harem (a collection of essays about foreign women living in Turkey), including my friend & Internet World colleague Anastasia Ashman
Fliegende Blätter Online digital archives of a weekly satire magazine that was published in Muenchen from 1845-1944
Frowntown A puppet series about children, but not for 'em
Indie Coffee A Madison, Wisconsin, coffee shop that features lots of indie music and films. Owned by the Kilmers, Badger Herald veterans
PFLAG Honoring the unconditional love of families and friends
Probert Designs If you're even half of the science fiction film buff and Starlog addict that I am, you'll be familiar with Andrew Probert and his work on Star Trek, Back to the Future, and more
Rifftrax Movie commentary from Mystery Science Theater 3000 veterans
University of Wisconsin-Madison My alma mater
UW Alumni UW-Madison alumni association
Wait, Wait ... Don't Tell Me Wonderful news-quiz program on NPR
Whad'Ya Know? Classic radio quiz show from Wisconsin Public Radio; I was an assistant to the assistant producer for one semester back in the late 1980s
Science Fiction & Science
Analog Science Fiction and Fact SF — fiction and news
Anime News Network Some titles are extremely self-explanatory
Asimov's Science Fiction SF fiction magazine; gets extra points for including full stories on the Web site
Cinefantastique Legendary science fiction media magazine online
Discover Science magazine
Discworld The L-Space, devoted to Terry Pratchett's Discworld
European Space Agency Euro-space
Fanboy.com SF fan-related blog
Fangoria Horror magazine's site; includes news, features, and original fiction
Fantasy and Science Fiction A classic SF short-fiction magazine
Galaxis My free digital magazine, focusing on science fiction and science
Gay League Gay comics and comics creators
Geo Think of it as the German equivalent of National Geographic, only bigger
Heavy Metal Illustrated fantasy magazine
Michio Kaku Theoretical physicist
Mystery Science Theater 3000 MST3K's official fan site
NASA Support the future
Nausicaa Net Site for Hayaho Miyazaki's amazing manga/anime
New Scientist Great science magazine
Omni The venerable futurist/science/scienc fiction magazine is back
Phantastic.de German-language SF/genre news site
Perry Rhodan Think that Star Trek is the world's oldest SF franchise? Nope. See this 40-year-old German series. (It also has an English-language site)
Planetes Great science fiction anime (and manga)
Science Blogs Blogs of science
Science Fiction World Chinese SF magazine
SF-radio.de German science fiction info
SF Site Info on fiction and writers
The Space Review News and opinions on space
Space View German-language SF media magazine
Starlog The former SF media magazine (web site appears dead)
Star Trek The official American site; there is, naturally, an official German site
Star Wars Union German-language Star Wars site; very well done
SyFy Portal Science fiction news

Sports
11 Freunde Deutsche Fußball (soccer) magazin
Bundesliga German professional soccer
CBS Sportsline Sports site
Chicago White Sox 2005 World Series champions.
FC Bayern Munich's Fußball team
Kicker Online Deutsche Fußball magazin
Outsports For gay athletes
SC Freiburg Freiburg's professional Fußball team
Goal Fußball/soccer site
Vfb Stuttgart Stuttgart's professional Fußball team's official site
History
David Barnsdale Lots of history links; check out the Weimar links within his history section
Internet Classics Archive Want to read Livy in the original Latin? Excellent site and links.
Perseus Project A digital library of information on ancient Greek and Roman topics
Weimar History (in German) and photos/art from that time
News & Other Media
American Society of Magazine Editors' list Best mag covers of the past 40 years. I'm a magazine editor with an interest in great magazine designs. Here are some sites (some hosted by the magazines themselves, others by third-parties) of cover galleries: Coverpop; Time; Esquire; Playboy (site shows covers from all of its U.S. and international editions); Ad Art Gallery (site with collections of various old magazine covers); Cover Browser (comics, including comics magazines such as Heavy Metal and Epic Illustrated; Magazine Covers Collection; National Lampoon; Rolling Stone; nooSFere (a treasure trove of international science fiction magazine cover designs); Mad Mags (German science fiction, horror, and fantasy magazine archive); Warren magazines; Future Life cover archive; Fliegende Blaetter full issues from 1844-1944 German satirical weekly
Arts & Letters Daily Cultural journalism from the editors of The Chronicle of Higher Education
The Badger Herald The paper for which I worked as a student at the University of Wisconsin
B5 Aktuell Terrestrial and streaming news radio from Bayern
Berlin News English-language news of Germany
Das Bild Deutsche Zeitung
British Broadcasting Company The BBC online
CBS Pretty good news site; deserves more attention than it gets
CNN One of my regular news sources
Chicago The venerable magazine is doing quite well these days
Chicago Sun-Times Chicago paper
Chicago Tribune Good paper
The Christian Science Monitor newspaper
The Daily Beast Tina Brown's back; site is noteworthy mostly for some great blogs (David Frum, etc.)
Deutschland Radio German-language radio stations available online
DW TV News from Berlin, in English and German
Euro News Aggregated news from Europe
Financial Times One of my favorite news sources; German site
Focus Weekly German news magazine
Forbes Business news and views
France 24 New 24-hour news from France
Frankfurter Allgemeine Zeitung German daily paper
Frankfurter Rundschau German newspaper
The Economist British newsweekly
Der Spiegel German newsweekly
The Atlantic Monthly Not British, not German, not even weekly
The Guardian Daily U.K. paper
Handelsblatt German business newspaper
The Independent Another daily U.K. paper
Internet World I used to work there (site no longer available?). Also, German
Madison News from the Wisconsin State Journal and the Capital Times (Madison, Wisconsin)
Magma My free digital magazine devoted to the magazine industry
Media Bistro News about the magazine industry
MSNBC News from NBC
National Public Radio Greatest radio news
Neue Zürcher Zeitung German-language Swiss newspaper
Newser Short news briefs
New York Review of Books The Review online – an excellent publication
New York Times It's also a great paper online
New York magazine News and views
N-TV German news channel
Playboy For as long as free speech is allowed online . . . (also, see its excellent, literate German edition)
Radio Prague Czech news (in English, German, Czech, etc.)
Reporter Interactive United Methodist news source
Sueddeutsche Zeitung South-German newspaper
Stern German weekly magazine online
USA Today daily news
Voice of America U.S. news abroad
Wisconsin Public Radio Statewide radio network in my home state, Wisconsin
Die Zeit German weekly newspaper

Political
Amnesty International Because the limits to man's inhumanity seem so distant
Anne Applebaum History and politics
Baden-Württemburg The official site of the German state from which one branch of my family came
The Commonwealth Club of California The nation's oldest, largest and best public forum (see also its YouTube page, its Twitter feed)
The Daily Beast Blogs, news, culture, fun
Goethe Institute San Francisco office
The Huffington Post Politics
Human Rights Campaign Act
Immigration Equality Gay and lesbian immigration rights
Lyle Lahey The award-winning Internet site for political cartoons, humor and commentary from Green Bay by the late Lyle Lahey; also, see his blog and his flickr page
Silicon Valley for Democracy in China Support democracy in China.
Politico All politics, all the time
Talking Points Memo Yeah, another blog
Timothy Garton Ash A favorite writer of mine
Weimar The actual city (stadt) in eastern Germany